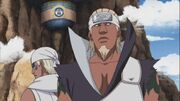 Aldamon é filho do Snow e irmão do Fênix , ele era conhecido pelos seus amigos como fênix também(antes de conheçer a sua equipe atual ele plagiava o irmão sem ter conheçimento disso) até vir para o império snow quando estava acontecendo uma guerra shinobi da AKATSUKI vs IS ,ele foi recrutado pelo Uchiha Gpateo .
As aventuras com seu irmão Fênix sempre começam ao final da tarde , seu raiton e sua furia não impede nada de você receber um lariat do nada , sua velocidade também é incrivel mas nada se compara também a velocidade do zac.
Seu objetivo : Ele tinha o plano com objetivo de matar raiolex o lider da sua antiga equipe , mas quando descobre quem ele é realmente seu objetivo vai todo para o lixo. Agora deseja o reconheçimento, respeito e a amizade de seus superiores, com treino e lutas.
Ele pode ser encontrado muitas vezes treinando com seu primo shadow,Fenix ou o própio pai Snow.
É um forte usuário de taijutsu e kenjutsu(manipulação de espadas), e ao mesmo tempo um bom manipulador de Raiton,e ter em si o Shichibi, além de controlá-lo perfeitamente.
Curiosidades:
. ele eh cabeça quente, se irrita muito facilmente(herdou o irmão Fenix =P)
. é um espadachim nato
. se exibe pela altura e força física ¬.¬'
. manipula relâmpago negro(disparando-os ou moldando-os em formas de animais)
Ad blocker interference detected!
Wikia is a free-to-use site that makes money from advertising. We have a modified experience for viewers using ad blockers

Wikia is not accessible if you've made further modifications. Remove the custom ad blocker rule(s) and the page will load as expected.