Ayato Kira, mais conhecido como Zetsuboukira, se juntou recentemente ao Império Snow, por isso não se sabe muito dele.
É muito raro - muito mesmo - ver ele cometendo algum erro ortográfico. A maioria de seus erros são de digitação. (Por que eu coloquei isso? ..)
É tranquilo e não costuma brigar. Não demonstra seus sentimentos facilmente. Tem poderes hipnóticos, que quando os usa, seus olhos adotam uma coloração avermelhada, diferente da cor natural de seus olhos, que são amarelos.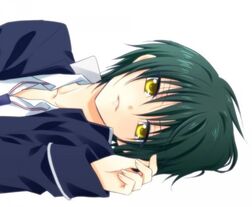 Não gosta muito de conversar, por isso sabe-se pouco sobre ele, além dele ter entrado há pouco tempo.
Aparenta ser o mais novo entre todos por causa de sua aparência de criança.
Costuma ser frio e irônico com as pessoas - apesar de ser irônico raramente. Foi dito à ele, por Snow, que ele é um pouco sombrio. Várias pessoas já disseram para ele tentar se soltar mais, conversar mais, porém, tudo em vão.
Não se sabe nada sobre o passado de Kira - e provavelmente nunca se saberá. Há rumores de que ele teve uma péssima infância para ser tão isolado. Outra teoria é de que ele sofra de transtorno de personalidade anti-social, que é improvável, pois Ayato não é um psicopata.
Quem sabe algum dia alguém ganhará a confiança desse ser misterioso e irá saber mais sobre o passado desse jovem?
(Caso alguém saiba alguma informação sobre Kira, editar este artigo)
Ad blocker interference detected!
Wikia is a free-to-use site that makes money from advertising. We have a modified experience for viewers using ad blockers

Wikia is not accessible if you've made further modifications. Remove the custom ad blocker rule(s) and the page will load as expected.