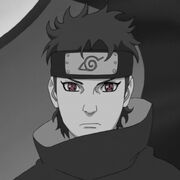 Uchiha Enzof era filho do líder do clã Uchiha Jiqui,veja um pequeno depoimento com as palavras de Enzof
"Após eu completar 13 anos eu não sabia de meu sangue mas sabia da existência deles e sabendo tudo dobre eles...
Uchiha Jiqui apareceu em minha frente falando que eu era filho de sangue dele.Fiquei alegre sabendo de minha erança especíal.Assim alcancei ao nvl.2 do sharingan .Quando estava voltando para casa minha mãe (Bella) conversando com suas amigas que meu pai havia largado quando eu era menor,abri a porta chorando com sharingan nvl.2
Dia seguinte vi meu pai matando minha mãe na minha frente fiquei com dor e dispertei o sharingan nvl3
Então maeti meu melhor amigo e obtive Mangekyou Sharingan,assim obtive poder ara enrfentar meu pai.
Meu mangekyou se originou a elocidade porque eu era mais rapido entre os uchihas"
Não se sabe muito mais sobre sua origem,mas sabe-se que se ele não morre-se seria herdeiro do clã
Ad blocker interference detected!
Wikia is a free-to-use site that makes money from advertising. We have a modified experience for viewers using ad blockers

Wikia is not accessible if you've made further modifications. Remove the custom ad blocker rule(s) and the page will load as expected.