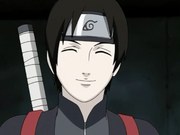 Glub era um Uchiha simpático,um cara meio parado mas na hora de zua e de luta ele era muito ágil,sua maior habilidade era desenhar e transformar seus desenhos em realidade (não em forma carne e sim desenhos grandes e com vida
Um depoimento com as pálavras dele
"Quandos viemos para o Club Penguin havia vários clãs pdoeroso lá.Tivemos de ver Uchiha Flipe01 ser morto por Uchiha Jiqui para obter o mangekyou e fazer os Uchihas mais fortes.
Assim Uciha Jiqui ficou temido por todos.
mas os outros uchihas foram desprezados.Jiqui Uchiha declarou uma reunião secreta que todos os usuarios precisariam ter mangekyou mas não matando integrantes do clã.
Assim tive uma pequena amizade com pinguim um.matando ele para ter o mangekyou sharingan.Assim eu sendo o segundo mais forte do clã até outro ter mangekyou e me superar"
Ad blocker interference detected!
Wikia is a free-to-use site that makes money from advertising. We have a modified experience for viewers using ad blockers

Wikia is not accessible if you've made further modifications. Remove the custom ad blocker rule(s) and the page will load as expected.