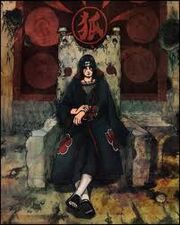 Jiqui uchiha , o grande lider do clã uchiha , seu poder e sua mentalidade ajudam bastante crescer o clã , a hamornia que traz o Jiqui aos seu amigos é impossivel de se esquecer , e também á incrivel a historia da morte da sua propria familia...
Minha Familia...
Jiqui havia uma esposa e um filho ,Bela e Enzof por um certo motivo ainda não explicado ele matou toda a sua familia, o seu sumiço ainda é um tabu para os membros do imperio snow , dizem que voltará depois de semestres e tal...
Meu grande irmão...
Jiqui e Jason , são grandes amigos ajudaram á fundar o clã uchiha que existe até hoje por causa da nova geração de filhos , netos,sobrinhos e etc...
Ad blocker interference detected!
Wikia is a free-to-use site that makes money from advertising. We have a modified experience for viewers using ad blockers

Wikia is not accessible if you've made further modifications. Remove the custom ad blocker rule(s) and the page will load as expected.