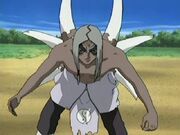 Morte Serta , é um guerreiro que luta de acordo com a situação , não é muito forte , mas qndo seu nome é dito aos deconhecidos provoca as vezes medo...
Rivalidade...
Seu terrivel rival seria o antigo diabo ou começo quiser lutador da destruição , a rivalidade deles dois não são muitos comentados hoje em dia mas é de se lembrar dessas terriveis figuras desconhecidas....
Ad blocker interference detected!
Wikia is a free-to-use site that makes money from advertising. We have a modified experience for viewers using ad blockers

Wikia is not accessible if you've made further modifications. Remove the custom ad blocker rule(s) and the page will load as expected.