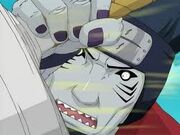 Rino era um cara muito simpatico , as vezes parecia ser um cara mal , mas a gente guarda muitas boas lembranças desse Homem peixe misterioso nos mostrou...
Meu ódio ?! Nosso ódio...
Chips e Rino Nunca se davam muito bem , suas brigas eram sempre afinal oque houve entre eles era sobre o CA , nem queira comentar nada perto do chips ... Ou senão ele explode em raiva !
Bijuu ...
Seu bijuu é o 8 caldas a hachibi , dizem que ela era muito forte, por causa de seus grandes ataques sobre o mar e seus ataques até fora dele , isso transforma o Rino um verdadeiro monstro do mar...
Rino atualmente esta sumido , todos acordam que um dia ele volte , enquando o seu corpo ainda dormece em algum lugar da Liga , aonde o guardião Gpateo não deixa passar ninguem ...
Amigos...
Gpateo e Rino eram muitos amigos , Rino sempre estava ajudando Gpateo na akatsuki ou fora dela , eles eram considerados Irmãos
Ad blocker interference detected!
Wikia is a free-to-use site that makes money from advertising. We have a modified experience for viewers using ad blockers

Wikia is not accessible if you've made further modifications. Remove the custom ad blocker rule(s) and the page will load as expected.